Tech Against Terrorism 
February 2020 Update
---
Headline News
– We're hiring! Tech Against Terrorism is looking for a Head of OSINT and a Junior OSINT Analyst (early career). If you have experience in Open Source Intelligence and wish to be part of a great project committed to tackling terrorist use of the internet, send your CV and cover letter to: [email protected]
– In January we started the Tech Against Terrorism Reader's Digest, a selection of insightful articles covering the latest developments in terrorist and violent extremist use of the internet, counter-terrorism, digital rights, and tech policy. You can find this week's digest at the end of the newsletter, and past editions on our website.
– We started 2020 by participating in the "Foreign Terrorist Fighters – Addressing The Current Challenge" conference in Vienna.  During this high-level event – jointly organised by UNOCT, the OSCE and Switzerland – our Research Manager Jacob Berntsson presented on the issue of online recruitment of foreign terrorist fighters, and the need for cross-sector collaboration to counter it.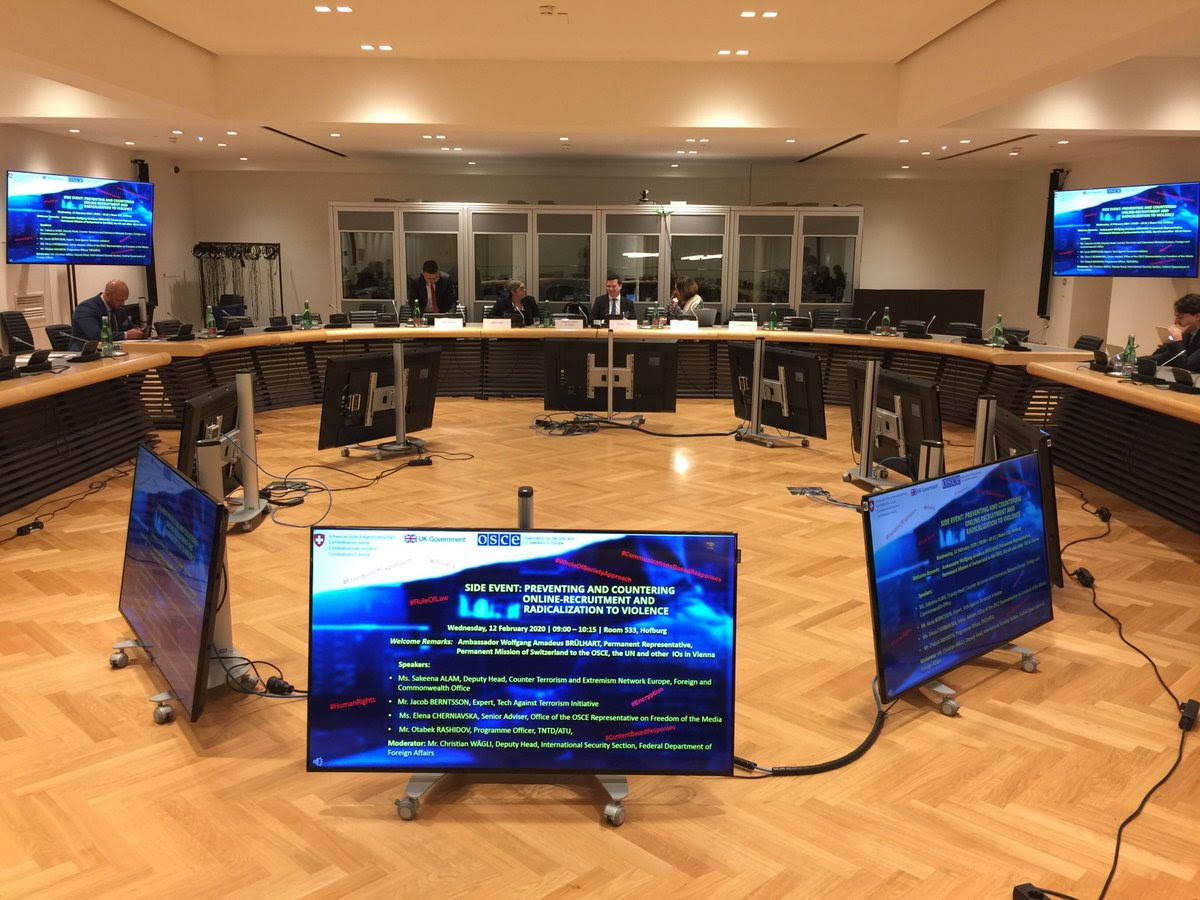 – Lorand Bodo, our OSINT lead, gave a presentation on open source and social media intelligence research methods at the UK Financial Conduct Authority in London.
---
What's up next?
– We are delighted to confirm dates for three upcoming e-learning webinars, on the topics of the online Islamist terrorism landscape, transparency reporting, and tech sector and law enforcement engagement. To find out more and to register, click the links below:
– Our second OSINT breakfast will be held in London in March. Our OSINT breakfasts are aimed at bringing the OSINT community together to share knowledge, best practice and build a network. A date will be confirmed soon.
– In March, Tech Against Terrorism will attend the Digital Forum organised by the US Department of Homeland Security in Atlanta, US, and the Aqaba Process meeting in San Francisco, US.
---
Tech Against Terrorism in the media
– Global Defence interviewed our Research Manager, Jacob Berntsson, to discuss the challenges in tackling terrorist use of the internet and Tech Against Terrorism's work with smaller tech companies and on facilitating cross-sector collaboration.0.02.2020)
– In this article on Cloudflare's decision to stop its service provision to 8Chan, the New Economy spoke with Tech Against Terrorism's Flora Deverell and Jacob Berntsson about the lack of global consensus when it comes to terrorist and violent extremist content online.
---
Reader's Digest – 28 February 
---
Terrorist and violent extremist use of the Internet 
– "The impact of legal histories on the fight against online extremism": In this three part series, Vox-Pol reflects on the legal histories of France, the US and Germany, and analyses current responses to the online terrorism and violent extremism. As democracies have to balance countering terrorism and violent extremism online with safeguarding right to privacy and freedom of speech, this series of articles sheds light on how countries are influenced by their own histories in responses to modern threats. (February 2020, VoxPol)
---
Islamist terrorism
– "Did the war against Islamic State just get worse?": Against the assumption that Islamic State (IS) territorial losses and the killing of its former leader al-Baghdadi means that that IS is defeated, Christopher Lee provides a threat assessment, looking back at how IS' operational capabilities are expanding to Europe, Asia, and Africa. (20.02.2020, Force Network)
– "Al-Qaeda and Islamic State groups are working together in West Africa to grab large swaths of territory": Fighting each other in the Middle East, al-Qaeda and Islamic State affiliated groups are engaged in a coordinated campaign to extend their influence and to unify various groups in the Sahel. The Washington Post reports that this alliance is based on tribal ties and practical concerns rather than ideology, and comes at a time when local militaries are facing increasingly sophisticated attacks from Islamist groups and when the US is considering shifting resources from the Sahel to the Asia-Pacific region. (Washington Post, 22.02.2020)
---
Counterterrorism 
– UNCTED – Research Digest: UNCTED's research digest celebrates the five-year anniversary of CTED's Global Research network (GRN) by highlighting five key trends in terrorism and counter-terrorism from the last decade: the evolving landscape; foreign terrorist fighters, trends in terrorist attack methodologies; terrorist use of the internet; human rights impacts. (UNCTED, February 2020)
–"Emergency terror law clears parliamentary hurdles":  Following the February terror attack in Streatham, London, the UK government unveiled new counterterrorism legislation to prevent the automatic release of individuals convicted for terrorism-related offences half-way through their sentences. The new legislation has now been approved by the House of Lords and is set to become law. (24.02.2020, BBC News)
– "Government takes action to proscribe right-wing terrorist groups": 4 years after proscribing neo-Nazi group National Action as a terrorist organisation, a first for a far-right terrorist organisation in the UK, the UK government is set to prohibit two other far-rights terrorist groups: Sonnenkrieg Division and System Resistance Network – the latter as an alias for National Action. (24.02.2020, UK Home Office)
---
Far-right violent extremism and terrorism
–"Former Atomwaffen Division leader arrested for swatting conspiracy": A former leader of neo-Nazi group Atomwaffen Division has been arrested for taking part in a conspiracy that led to three swat calls in Virginia in 2018-2019. He is being charged with "conspiracy to commit an offence against the United States, interstate threats to injure", and could be jailed for a maximum of five years if found guilty. (US Department of Justice, 26.02.0202)
– "Far-right terrorism is global, but the coverage is not": Looking back at the recent far-right violent extremist attacks in Hanau and in New Delhi this month, Eviane Leidig's article is a reminder that far-right violent extremism and terrorism is global. Leidig underlines striking resemblance between Western far-right and Hindu nationalist violent extremist movements (e.g gamification, use of social media platforms and messenger apps, live-streaming of the attacks), and their differences in media coverage in North America and Europe, concluding that there is a need for a global response to the far-right violent extremist threat. (Eviane Leidig, CARR, 24.02.2020)
– "Why conspiracy theories can act as radicalization multipliers of far-right ideals": Looking at the motivations behind the far-right violent extremist attack in Hanau, and the perpetrator's immersion into conspiracy theories, Terje Emberland analyses the link between conspiracy theories and far-right violent extremism ideologies. Emberland discusses the similarities and close connections between the conspiracy theorists and violent extremist far-right spheres, calling for researchers to pay attention to this "radicalization multiplier". (Terje Emberland, C-REX, 24.02.2020)
---
Tech policy 
– "MI5 chief asks tech firms for 'exceptional access' to encrypted messages": Increased use of encryption by tech platforms has, according to UK intelligence agency MI5's Director General, Sir Andrew Parker, limited agencies' capabilities to monitor suspects, with the online sphere becoming "a wild west, unregulated, inaccessible to authorities". Sir Andrew Parker is now calling for tech platforms to grant intelligence agencies "exceptional access" to encrypted messages. This is not the first time an intelligence or government agency has called for such access, or in certain cases limitation, to encryption, especially following Facebook's plan to roll-out end-to-end encryption (E2EE) across its services. In this article, Dan Sabbagh provides a brief overview of the E2EE debate, highlighting how access for UK intelligence agencies could create a precedent that could compel tech platforms to monitor political activists in certain countries. (The Guardian, 25.02.2020)
To learn more about the encryption debate: "Fancy new terms, same old backdoors: The encryption debate in 2019"
– "Europe is fighting tech battle with one hand tied behind its back": Europe's grand vision for a digital future, led by European Commission President Ursula von der Leyen, sets for European digital and next-generation tech-solutions to compete with their US and Chinese competitors, whilst embedding EU values of fundamental right to privacy – an essential component of Europe's digital future according to von der Leyen. In this article, Politico reflects on the difficult balance between the importance of privacy rights values and remaining competitive in the digital and AI sector. (Politico, 24.02.2020)
---
---
Background to Tech Against Terrorism
Tech Against Terrorism is an initiative launched by the United Nations Counter Terrorism Executive Directorate (UN CTED) in April 2017. We support the global technology sector in responding to terrorist use of the internet whilst respecting human rights, and we work to promote public-private partnerships to mitigate this threat. Our research shows that terrorist groups – both jihadist and far-right terrorists – consistently exploit smaller tech platforms when disseminating propaganda. At Tech Against Terrorism, our mission is to support smaller tech companies in tackling this threat whilst respecting human rights and to provide companies with practical tools to facilitate this process. As a public-private partnership, the initiative has been supported by the Global Internet Forum to Counter Terrorism (GIFCT) and the governments of Spain, Switzerland, the Republic of Korea, and Canada.